Calls Blacklist – Call Blocker does exactly what the name implies. It's simple, elegant and efficient. Read this review and download it if you're seeking a call blocking app!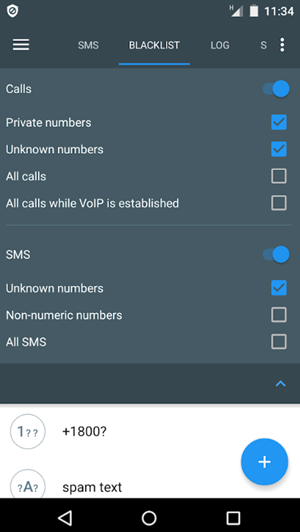 Calls Blacklist just works! Whether you want to rid an annoying person, a stalker, telemarketer, a creditor, etc… it just works! It's great for temporarily or permanently blocking unwanted calls, text messages, and text spam messages. You can add contacts from your list, or those who recently contacted you, or enter numbers manually.
Blocking text messages and spam text is straightforward… enter the number and you won't receive notification of it. The only way you will know a communication came through is if you actively check the logs. The call block feature has a few options for blocking however. By default it is set to Answer and End the call, meaning the call comes in and is shown on your phone's caller ID, then quickly answers and hangs up on the person and they don't get to your voicemail. This option may be useful for those who you may want to know is calling but do not desire to answer.
Alternatively, you can send them straight to voicemail or silence them whereas you never know they're calling until you check the logs. My only gripe with the app is that the icon stays pinned to the top notifications tray advising you that it is running, a setting to disable this would be nice. Lastly, some phones, like the Samsung Galaxy S6, have text & call blocking features built-in so it may not be as worth the spend if you already have the capability.
If your phone already has this function built-in you may avoid it. However, if your phone does offers these features and you're looking for a simple call & text blocking app that works then give it a try. You can download the app right now on the Google Play Store for free. The basic version is free but there is an optional Pro version for only $1.99.