Hoverwatch is a tracking app that lets you monitor the location of various Android devices, via a user friendly browser dashboard. If you're a business and want to monitor field employee locations and more, the app is simple to use and provides lots of tools and functionality.
Pros & Cons:
Pros
Lot's of functionality
Easy to use browser interface
Ability to manage apps remotely
Ability to record calls
Cons
Time delay in actions; locations, messages, apps, etc.
Locations are 'close' but might not be accurate enough for some purposes.
Hoverwatch Phone Tracker is a means for corporations to monitor their Android devices while being used in the field. Whether that be to supervise staff locations or protect sensitive corporate data on the devices, there is a lot of functionality. (An additional application might also be to monitor your families locations, for security reasons.)
The first thing you need to do is set up an account, which I managed to do via the app, and then the web. The app itself is essentially a client, embedded on the phone to push location and administrative data to the web dashboard. All the action essentially takes place in your secure browser. For testing purposes I installed and signed up the Android -toting members of my family (unfortunately I don't have a workforce of many to test this out on properly). Once the client is on their devices, all they need to do is log in to the host account, allow permissions and it's set up.
So, here's what you can do:
Monitor the location of every device
Record all incoming and outgoing calls
Remotely take screenshots
Record call logs, text messages, internet history, contacts, and instant messages.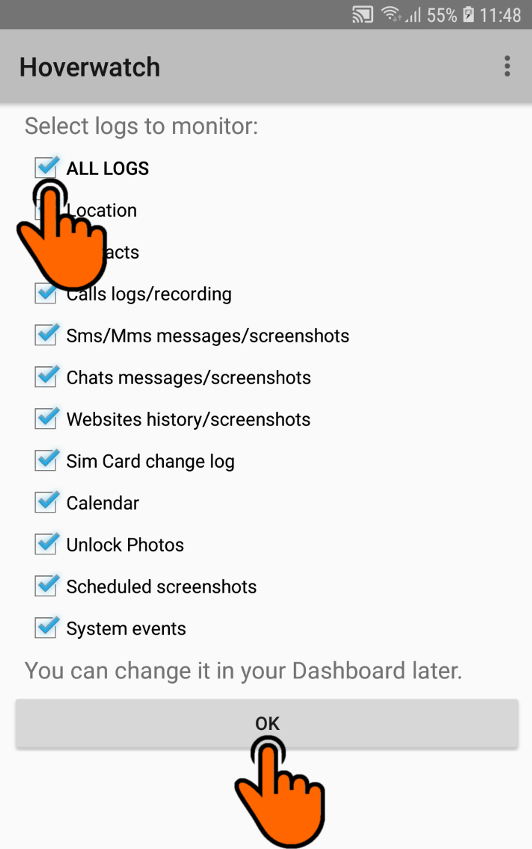 Testing these, I had mixed results. Location information was good, but pretty slow to come through, devices had been at a specific location for some time before it registered on the map. Compared, for example, with something as accurate as Glympse, this isn't that good accuracy-wise. If however, you require less detail, it's actually fine. My location history was mostly quite accurate up to a distance of about 100 meters, so if you're monitoring devices/staff movement over a wide area, this would be absolutely fine.
Try Before You Buy

Overall, the app is mostly easy to use, but I'd certainly recommend to any business to try a full field trial first, before rolling it out as a full solution. In my experience the service works really well, but actions take quite a while to be executed at user level which may or may no be good enough. I would stress, however, that rolling this out to mobile workers own devices might be a little 'Big Brother', and I'm not sure users would be keen to give up some of their privacy for the sake of this kind of productivity tool.
For monitoring and managing device movement, it's a comprehensive and very useful. Time-critical actions might require alternative solutions however.
Ease of Use
The whole service is incredibly easy to use; both with setting up and using the user-friendly browser dashboard. You can find a good tutorial on how to install the Hoverwatch tracking app on Android at BestPhoneSpy. Instructions sent to devices are also quite simple too (so even if your users are utter technophiles, they should be able to use the prompts easily)
Obviously this depends on what you would using the service for, but clearly it's something that would be on all the time, at least in the background if it wasn't being used for specific purposes throughout the day. If the app/service was faster it might be even more useful and an option for everything from managing a sales team in the field or even more detailed logistics.
The interface is quite simple. The app only really has basic administrative and information screens. The web browser dashboard however is more detailed, but looks good. The map takes centre stage so-to-speak, but the menus are well laid out and would not take too much staff training.
Bottom Line
The service mostly works really well aside from the time delays. It provides a neat way to manage and monitor remote devices; from locking them for security purposes, sending messages and apps to wiping sensitive information- it's pretty effective. If perhaps these functions could be deployed quicker to the remote clients, it might be more effective- and arguably have more application for different organisations. Definitely try the service app out though, if your needs are not always time-critical, this might be the perfect solution.